Fast Back Focus... on Sarah Toole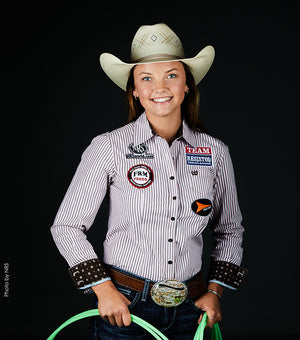 It's not unusual in the western and rodeo lifestyle to meet kids and young adults who are well mannered and responsible. After all, they usually have chores, like animals to feed, stalls to clean, and horses to saddle. But occasionally we encounter an exceptional kid, like Sarah Toole.
Adam and Amy Toole have raised two daughters who are not only champions and winners, but also grounded Christians. They are well liked and respected wherever they go. The Toole family lives in the small community of Rydal, in northwest Georgia. Adam, an accomplished roper, has instilled horsemanship and a winning attitude in his girls.
Sarah's parents are especially proud of her sweet and generous spirit. In fact, while at the Georgia High School finals this year, Sarah could be found in the box helping other girls in the Breakaway even though it didn't look promising that she would qualify for nationals in that event. After a tough year in the Breakaway, she won the average at the state finals and ended up 4th, qualifying her to compete at the National High School Finals Rodeo in Gillette, Wyoming this summer.
As a Junior and a #5 header, Sarah is the first girl to achieve the Georgia High School Rodeo state title in team roping. She and her partner, Luke Denney, won the average in the team roping, in addition to Sarah winning the average in Goat Tying.
It's not surprising that Sarah could pull off such incredible wins as she is certainly no stranger to winning. Last year, as a Sophmore, she earned the state Breakaway and Goat Tying titles. And in the 8th grade, she finished in an impressive 3rd place at National Junior High School Finals in the Breakaway.
Being able to set goals, and stay focused while achieving them will carry Sarah far in life. And we can't wait to see where it takes her.
 Getting to know Sarah…
 How much do you practice?
Every single day. Literally. We ride and train colts, so we ride every day.
Do you make your own horses?
Yes.
Who has been your roping or rodeo heroes?
My dad for sure. I've always looked up to my sister, Lynnsey. When she was in high school and I was in junior high, she was winning everywhere and I thought, "That's what I want to do."
Who do you respect most in the world?
The Lord and my family.
Who has been the biggest influence in your life?
My parents. My mom has always pushed me to be my best.
If you had a day off, what would you like to do?
Probably pick up some Mexican food and go to the pool.
Favorite movie?
Lonesome Dove
What's the last thing you read?
Live by Sadie Robertson.
How would you describe yourself in three words?
Unique, outgoing, loving.
What makes you happy?
Going to church with my family.
What makes you angry?
When people are disrespectful.
If you were given 1 million dollars, how would you spend it?
Some time ago my dad went on a mission to Romania. I would probably go there and buy them food and other necessities. I would also buy a Mexican restaurant.
What is your worst quality – your best?
I wish I had more patience. I think my best is being able to talk to and make a friend with anyone.
Sarah is sponsored by: Fast Back Ropes, Resistol, NRS, and FRM Feeds. Her ropes of choice are the Mach 4 for team roping and the Edge for Breakaway.

---
Also in Fast Back Focus